Isn't that Martha's line? It was a good day. I completed the design plan for a darling new client. This has been one of the most fun projects
ever
. She fell in love with this image I showed her on Pinterest, and so I ran with it.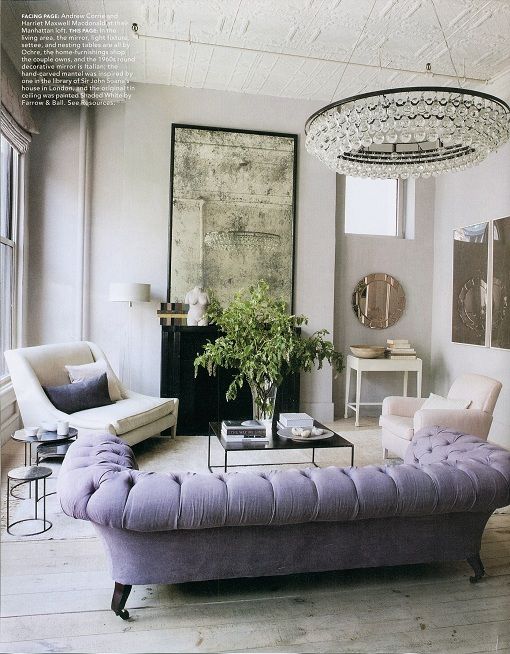 Tomorrow morning is the presentation.
Here's a sneak peek....
Love a girl who's girly, yet gutsy enough to want a lavender velvet sofa. Hoping she loves The Plan.
Speaking of Pinterest, my daughter likes to text me recipes. I rarely follow a recipe, but thought it would be fun to do something special for her, since the boys were out at Monster Jam. Here is one of her latest suggestions...
Spaghettini with Spinach, Garlic and Lemon
Serves 4 to 6
Ingredients
1 lb spaghettini, angel hair or spaghetti pasta
6 tablespoons olive oil
8 garlic cloves, crushed or minced
zest of one lemon
juice of one lemon
10 oz bag of baby spinach
salt and pepper to taste
Method
In a skillet heat, 6 tablespoons olive oil over medium low heat. Add garlic and cook for 10 to 12 minutes to gently cook the garlic. Add lemon zest and lemon juice. Season with salt and pepper.
SO EASY! I didn't have any lemons, but it was good anyway. I also added pine nuts at the end, and fresh Parmigiano.
After dinner we went to the movies to see that new Julianne Hough movie. It was sold out, so we opted for
The Silver Linings Playbook,
and I'd say we lucked out.
WE LOVED IT! Great love story, acting, directing, and the actor looks EXACTLY like my little brother. See...
The best news of the day came from Lauren, who shot our house for
Cottage Journal
, which will be out next Christmas. She told me they want 20 images for the spread! Fantastic news!!! Thank you, thank you Lauren!
The only problem is, I'm sick of our house already. Bianca thought I was nuts to say so, since we just finished the updating a few months ago. On second thought, she agreed, " Well, I guess it's like wearing the same outfit every day." She's always been good with words.
PRECISAMENTE-